Quebec City offers an enchanting blend of European charm, rich history, and a romantic atmosphere that makes it the perfect setting for a lovers' getaway. Its charming streets, beautiful architecture, and old-world ambiance make it a lover's paradise. Whether you're celebrating an anniversary, planning a surprise proposal, or simply looking to rekindle the flame, Quebec City beckons with its dreamy ambiance and cultural richness. As you meander through its cobblestone streets and explore historic landmarks, you'll feel transported to a different time and place, where romance lingers in the air. Quebec City is more than a destination; it's a passionate journey waiting to be discovered.
7 activities for a Romantic Getaway in Quebec City

Romantic Dining
What's more romantic than a candlelit dinner with your beloved? Quebec City boasts a vibrant culinary scene, and several fine dining establishments offer an intimate and amorous atmosphere. Restaurants like Restaurant Va Bene, Le Continental, Explorez Archibald, and The Augustine's Vivoir serve up not just delectable dishes but also an ambiance that's perfect for celebrating love. Savour scrumptious French cuisine and exquisite wines, and let the culinary arts enhance your romantic journey. To make your dining experience truly unforgettable, join HQ Services Touristiques' food tours, which allow you to savour a variety of local flavours and dishes while exploring the city's culinary culture. You'll be delighted by the sumptuous cuisine, fine wine, and impeccable service that these restaurants provide: perfect for the ideal Romantic Getaway in Quebec City!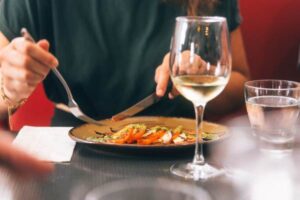 Dufferin Terrace 
A stroll hand-in-hand along the Dufferin Terrace is a quintessential romantic experience in Quebec City. This beautiful boardwalk, perched high above the St. Lawrence River, offers breathtaking panoramic views of the river and the enchanting Lower Town. The crisp breeze, the view, and the company of your loved one make this an unforgettable moment. Perfect for a Romantic walk hand-in-hand.
Fun facts about the Dufferin Terrace:
Historical Significance: Named after Lord Dufferin, Canada's third Governor General, Dufferin Terrace was built in 1879 as part of Quebec City's fortification improvements.
Scenic Views: Offering breathtaking panoramas of the St. Lawrence River, Île d'Orléans, and the Laurentian Mountains, the terrace provides an iconic backdrop featuring Fairmont Le Château Frontenac.
Seasonal Attractions: With activities changing by season, the terrace hosts an toboggan slide and lively street performers, artists, and musicians during warmer months.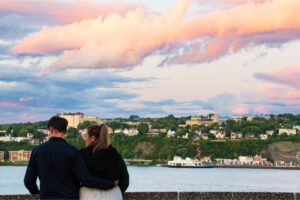 Onhwa Lumina
This immersive outdoor multimedia experience takes place in Wendake, 20 minutes outside Old Quebec. As the sun sets, you and your partner can embark on a captivating journey through a magical forest, where vibrant lights, music, and stunning visual effects embracing the Wendate culture. It's a dreamlike and intimate experience, perfect for strolling hand in hand while being surrounded by the beauty of nature and art. Onhwa Lumina offers couples a unique opportunity to share moments of wonder and connection, making it an ideal choice for a memorable and romantic escape in Quebec City.
Île d'Orléans (Orleans Island )
Escape the city for a day and head to Île d'Orléans, a nearby island that exudes charm and offers a serene escape. This picturesque island is known for its stunning landscapes, charming villages, and local food. You can explore the island's vineyards, orchards, and artisanal shops while enjoying a relaxing day in each other's company. Quebec Bus Tours offers amazing wine tasting tours on Orleans Island.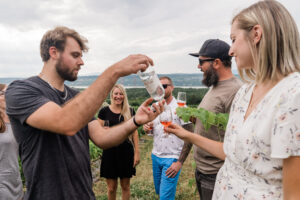 Enjoy a Spa Date
Spa Siberia, Strom, and Nordique Stoneham offer the perfect recipe for a romantic and rejuvenating escape. These world-class spas provide an intimate and luxurious setting where couples can unwind together. Surrounded by serene natural landscapes, they feature a range of pampering treatments, including massages, hydrotherapy, and relaxation areas, allowing lovebirds to indulge in blissful tranquillity. With the soothing ambiance, couples can melt away stress and create cherished moments of togetherness, making Spa Siberia and Strom an idyllic destination for a romantic rendezvous in Quebec City. Name something more romantic!
HQ Services Touristiques Favourites Spas around Quebec City
Siberia Spa

Strom Vieux-Québec

Nordique Stoneham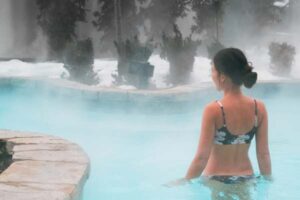 Gardens, History, and Evening Adventures
Start your day with a leisurely visit to the Joan of Arc Garden, where blooming flowers create a serene ambiance for couples. Stroll hand in hand amidst the floral beauty and relish your time together.
Next, embrace the vast, snow-covered expanse of the Plains of Abraham, where a peaceful snowshoeing adventure lets you connect with nature and each other. The serene landscape provides a perfect backdrop for shared moments of tranquility.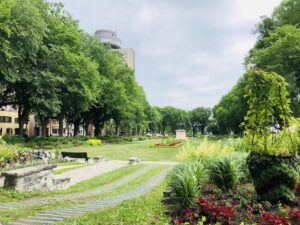 Sporty Adventures
As the sun begins to set, hop on a bike for an unforgettable evening ride with Tuque & Bicycles Experiences. The city's historic charm and your shared experience create a romantic atmosphere that's bound to kindle the flames of love.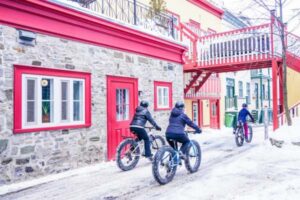 Quebec City, with its blend of European and North American influences, offers a romantic escape that's both enchanting and memorable. Whether you're savouring exquisite cuisine, exploring historic streets, or enjoying the natural beauty of the region, you're sure to create cherished memories that will keep the flame of love burning brightly.